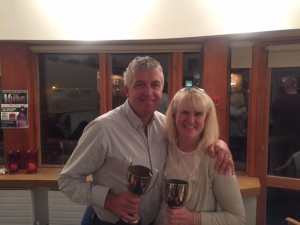 Tostal Cup
Great night was had by all at the Tostal Cup on Saturday 23 April.
8 courts in action overall – and the winners were……
Therese Ryan (for the 1 billionth sorry 5th time!) and Donal O'Sullivan (also a multiple winner!)
Well done guys! And great job by our new captains Kathy and Niall on their first outing in their new job!
The food was delicious – many thanks to Marie Flynn who provided us with lovely salmon, baked ham and salads afterwards.
Club draw winners
Nicola Hennessy is our latest thousandaire with her winnings of €1000 (big holiday coming up) and
Robyn Conway won the attendance prize of €200. Congratulations!
Join the club draw now and be in for the next draw on Handicap finals night Saturday 2 July!