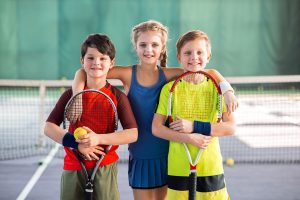 Junior Group Coaching
April – June 2021
We are planning to run an 8 week term starting the week of Monday 26th April. We are awaiting specific guidelines from Tennis Ireland in relation to class size and Covid safety. Further information and booking links will be published on this page as soon as we receive the guidelines.
Junior Membership
You can now join GLTC online which will enable you to sign up for our coaching programme. Please remember when joining that the name, age and other details requested online are those of your child but with your email and mobile number!  Upon paying the membership fee which runs to December 2020 you will receive two emails from the Smart Club Cloud.  The first with your user ID to login and the second with your temporary password. Your user ID will be firstname.surname.xxxx (where xxxx is your membership number) eg john.smith.1234.The email comes from admin@smartclubsolutions.com so please add this to your contacts also. This will enable you to book your child's coaching as a member on www.smartclubcloud.com. immediately. You will get a separate email from the office welcoming you to the club (the office is open Mondays and Wednesdays and Thursday evenings).
TROUBLESHOOTING
Please check your spam/junk/promotions folder if you can't find your login.
If you use yahoo as an email address you may be delayed/not receive emails.
Are you using the correct user ID to login? Your user ID is firstname.surname.xxxx (where xxxx is your membership number) eg john.smith.1234. It is not your email address.
Please do not use internet explorer to login when booking or you may have problems as IE is sometimes not supported.
If this does not resolve your issues please contact Linda in the office admin@greystonesltc.ie and 01 – 2876505 during office hours.
If you have any queries on junior group coaching please text Alan on 0872225298. If you have any queries on logging into SMART and your membership please contact admin@greystonesltc.ie and secretary@greystonesltc.ie