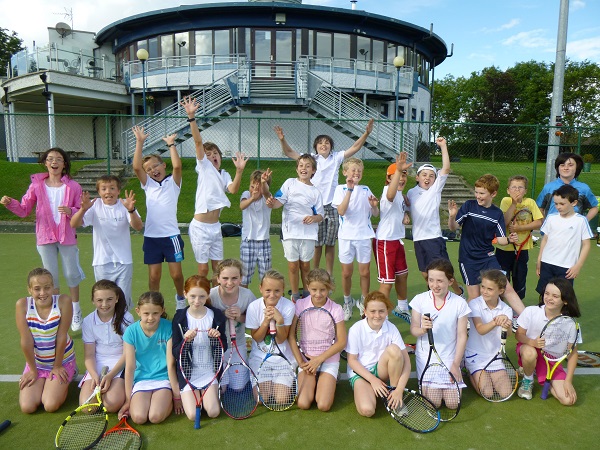 Summer Tennis Camps 2021
Age 5-14yrs
Fee: Members €89
Non Members €99
Online Booking for Camps 9C & 9D Opens:  Thursday 19th August, 6pm.
Member Booking: Booking is online only through your smart club account. Please be sure to have your username and password at hand and that your membership is up to date.
Non-members Booking:  click here to book
Tennis Rackets:  available to borrow (free of charge) each day for beginners and non members.
For any queries on Summer Camps: please text Alan on 0872225298

Extra Tennis Camps:
Camp 9C (2.15 – 5.15pm): Monday 23rd August – Friday 27th August (For children born 2013-2016 only)
Camp 9D (2.15 – 5.15pm): Monday 23rd August – Friday 27th August (For children born 2012-2006 only)
Camp Dates & Times:
Camp 1A (10.15 am -1.15 pm): Monday 28th June – Friday 2nd July  (For children born 2013-2016 only)
Camp 1B (10.15 am-1.15 pm): Monday 28th June – Friday 2nd July  (For children born 2012-2006 only)
Camp 1C (2.15 pm -5.15 pm): Monday 28th June – Friday 2nd July  (For children born 2013-2016 only)
Camp 1D (2.15 pm -5.15 pm): Monday 28th June – Friday 2nd July  (For children born 2012-2006 only)
Camp 2A (10.15 am -1.15 pm): Monday 5th July – Friday 9th July (For children born 2013-2016 only)
Camp 2B (10.15 am – 1.15 pm): Monday 5th July – Friday 9th July  (For children born 2012-2006 only)
Camp 2C (2.15 -5.15 pm): Monday 5th July – Friday 9th July (For children born 2013-2016 only)
Camp 2D (2.15 pm -5.15 pm): Monday 5th July – Friday 9th July  (For children born 2012-2006 only)
Camp 3A (10.15 am -1.15 pm): Monday 12th July – Friday 16th July  (For children born 2013-2016 only)
Camp 3B (10.15 am -1.15 pm): Monday 12th July – Friday 16th July  (For children born 2012-2006 only)
Camp 3C (2.15 pm -5.15 pm): Monday 12th July – Friday 16th July  (For children born 2013-2016 only)
Camp 3D (2.15 pm -5.15 pm): Monday 12th July – Friday 16th July  (For children born 2012-2006 only)
Camp 4A (10.15 am-1.15 pm): Monday 19th July – Friday 23rd July (For children born 2013-2016 only)
Camp 4B (10.15 am-1.15pm): Monday 19th July – Friday 23rd July  (For children born 2012-2006 only)
Camp 4C (2.15 pm-5.15 pm): Monday 19th July – Friday 23rd July (For children born 2013-2016 only)
Camp 4D (2.15 pm-5.15 pm): Monday 19th July – Friday 23rd July  (For children born 2012-2006 only)
Camp 5A (10.15 am -1.15 pm): Monday 26th July – Friday 30th July (For children born 2013-2016 only)
Camp 5B (10.15 am-1.15 pm): Monday 26th July – Friday 30th July (For children born 2012-2006 only)
Camp 5C (2.15 pm -5.15 pm): Monday 26th July – Friday 30th July (For children born 2013-2016 only)
Camp 5D (2.15 pm – 5.15 pm): Monday 26th July – Friday 30th July (For children born 2012-2006 only)
Camp 6A (10.15 am -1.15 pm): Tuesday 3rd August – Friday 6th August  (For children born 2013-2016 only)
Camp 6B (10.15 am-1.15 pm): Tuesday 3rd August – Friday 6th August  (For children born 2012-2006 only)
Camp 6C (2.15 pm -5.15 pm): Tuesday 3rd August – Friday 6th August  (For children born 2013-2016 only)
Camp 6D (2.15 pm -5.15 pm): Tuesday 3rd August – Friday 6th August  (For children born 2012-2006 only)
Camp 7A (10.15 am -1.15 pm): Monday 9th August – Friday 13th August  (For children born 2013-2016 only)
Camp 7B (10.15 am -1.15 pm): Monday 9th August – Friday 13th August  (For children born 2012-2006 only)
Camp 7C (2.15 pm -5.15 pm): Monday 9th August – Friday 13th August  (For children born 2013-2016 only)
Camp 7D (2.15 pm -5.15 pm): Monday 9th August – Friday 13th August  (For children born 2012-2006 only)
Camp 8A (10.15 am -1.15 pm): Monday 16th August – Friday 20th August (For children born 2013-2016 only)
Camp 8B (10.15 am -1.15 pm): Monday 16th August – Friday 20th August  (For children born 2012-2006 only)
Camp 9A (10.15 am – 1.15 pm): Monday 23rd August – Friday 27th August (For children born 2013-2016 only)
Camp 9B (10.15 am – 1.15 pm): Monday 23rd August – Friday 27th August (For children born 2012-2006 only)