Why not take advantage of the long weekend and good weather and play some tennis at Greystones LTC? We ar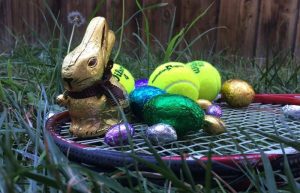 e hosting two open Easter tournaments. There are plenty of spaces for our mixed event on Saturday evening and a handful of spots for the doubles event on Monday.  Friendly competitive tennis, lovely food and a great chance to meet new players from different clubs – all for €10!
Link to enter, see who's playing and further information on the competitions below.
Mixed Doubles – Saturday 15 April at 6.30pm – all levels Class 2 to Class 7 available
http://ti.tournamentsoftware.com/sport/tournament.aspx?id=6D3E7849-A937-4486-8B73-FDFAAF84C5C7
Ladies Doubles & Mens Doubles – Monday 17 April at 11am –  Spots available – ladies class 5 to non league pair or individuals and mens doubles class 3/4 or class 5/6. I will also take reserve entries for ladies in all classes – just send me an email or text.
FURTHER INFORMATION
(1) Mixed Night – Saturday 15 April – 630pm
Tennis starts at 6.30pm
Graded mixed tennis for 24 pairs – graded into 6 groups from 2/3 to non league.
3 round robin matches – best of 9 games – (tiebreak for the 9th game)
Dinner and socialising afterwards in the bar.
Cost of event including dinner after €10.
Open to anyone over 18
Friends welcome to support and socialise afterwards – if they wish to have food its €10 also.
Small prizes for the winners.
Enter online on tournament software – http://ti.tournamentsoftware.com/sport/tournament.aspx?id=6D3E7849-A937-4486-8B73-FDFAAF84C5C7
(2) Ladies' Doubles and Mens' Doubles – Easter Monday 17 April – 11am
Tennis starts at 11am
Graded ladies doubles (from 2/3 to non league approx) and graded mens doubles (from 3/4 to non league approx)
3 round robin matches – best of 9 games – (tiebreak for the 9th game)
lunch and socialising afterwards in the bar.
Cost of event including lunch €10.
Open to anyone over 16
Friends welcome to support and socialise afterwards – if they wish to have food its €5 also.
Small prizes for the winners.
Enter online on tournament software – http://ti.tournamentsoftware.com/sport/tournament.aspx?id=7A85C4E2-0636-4E14-9C41-94379AFEF1AC
Any questions Ailish Byrne 087 2380265 – ailish.byrne@hotmail.com