---
Ladies – another successful chick league – with 84 players and more than 100 tennis matches played over 5 weeks it was our biggest competition yet so well done to all participants. A special well done to the winners who came out on top in the Greystones chick league 2019 (Check out all the Chick league results 2019) and thanks to the captains who were fantastic for keeping the tennis groups on track during our lovely November weather.
Sloanes' Spinners – Orla Baines & Rona Barker (Captain Rona Barker)
Simone's Smashers – Carina O'Caoimh (Captain Carol Keenan)
Serena's Servers – Clodagh Corcoran (Captains Jenny Nohilly & Rhona Woods)
Aga's Acers – Eimer Diamond (Captain Emma O'Brien)
Venus' Volleyers – Clodagh McCluskey (Captain Wendy Lee)
Lucie's Lobbers – Lucy Anderson & Noreen Keville (Captain Ruth Adams)
Madison's Movers  – Frances Hughes, Anne Marie O'Brien and Caroline Allen (captain Mary Boyd)
Heather's Hotshots – Gillian Kennedy (Captain Justine Keane)
Smash Hits – Frances Haworth (Captain Tanya Hughes)
Petra's Performers – Edwina O'Sullivan (Captain Linda Waters)
*******PRIZES ******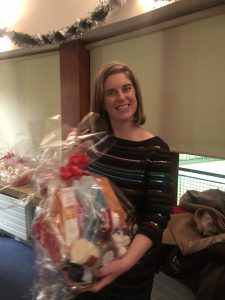 The lovely baskets for the winners were sourced from Bomar Aromatheraphy in Kilcoole. Bomar also sponsored a coconut melt body balm for the volunteer captains and some lovely soaps for all the chicks who came to the ladies dinner. Captains and winners if you haven't collected your prize contact Ailish on 0872380265 and she will arrange to give it to you.