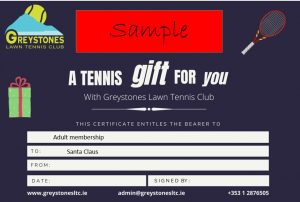 Great value – 3 month trial offer for brand new members
Not sure what to give your loved one for Christmas? Why not buy them a three month trial membership with Greystones LTC? Our trial offer is great value and is available to brand new members. Buy it for Christmas and the recipient will be able to come down and enjoy tennis over the holidays and play tennis right through to 31 March 2022 (covid regulations permitting or we will extend to ensure the full 3 months is provided). These options are available to purchase online on Greystones LTC website or through the office. If this is a present for someone else join using your own email (to receive confirmation of membership and ensure the present is a surprise) and you can change the email to the recipient online afterwards for booking etc.
We can organise a presentation gift card for you to hand out on Christmas day as well. Membership cards for lights are also provided to members over 18. Collect your gift card (and membership card) from the office on Monday 20, Wed 22 and Thurs 23 December between 9-1pm or we can arrange for it to be posted to you.
Join for 2022 – full year or trial
Note this offer is only open to new members on a first time trial basis and the prices are as follows:
Family                                   €165
Couple                                  €150
Adult                                     €90
Senior over 65                   €75
Student (18-25)                 €50
Junior (under 18)              €40
Junior (born 2014 – 2018 only)  €30 (membership for the year)
Tennis vouchers 2022 for existing members
You can also gift your loved ones who are current members – buy a tennis voucher for any amount which they can use towards their tennis club membership, tennis lessons or some club gear!! We can provide a gift card which you can give to them on Christmas day. Call the office on 01-2876505 on Thursday, Monday or Wednesday between 9-1pm to arrange and collect your gift card from the office on Monday 20, Wed 22, Thurs 23 between 9-1pm.