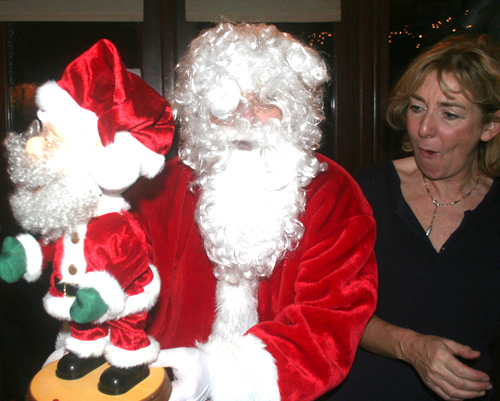 Well Turkey League heroes, it's high time for an update. First of all here is the league table:
Snowmen are top of the tree with 129 points
Santas are coming down the chimney with 117 points
Puddings have baked their way to 109 points
Turkeys and elves are wrapped together on 101
And the poor Reindeer are missing Rudolf with his red nose and hence are on 91 points.
It's all still to play for!!!!
And we have had some other Yuletide High-Lights:
Nick coolly dealing with the hungry hoards and serving up great burgers. I think he is a bit more relaxed now that Arnie is back in the country!
Lotte's bizarre interpretation/impersonation of a snowman which made some people that think she was ill.
Nicola bravely playing for three hours in the lashing rain and smiling all the way!
A former club chairman who is not on a team but who has played every week, without complaining….much!
And as for the craic in the bar…it was mighty…at least what I can remember of it was.
Roll on Next Friday!
Frosty