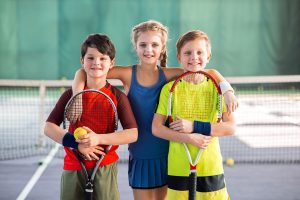 Junior Group Coaching
April to June Term 2022
Ages: 5-16
Monday 25th April – Saturday 25th June (7-week term)
Fee: €70 – online payment for the term is now available on your smart club account
All children who attended last term (Jan to April) keep their place for the new term
New members: If you are a new junior member and would like to join a group coaching class, please text your child/children's name/s and date/s of birth to Alan on 0858675860 and I will get back to you if there are any places available.
Monday Classes start: Monday 25th April (No Class Mon 2nd May & Mon 6th June)
Tuesday Classes start: Tuesday 3rd May
Wednesday Classes start: Wednesday 4th May
Thursday Classes start: Thursday 5th May
Friday Classes start: Friday 6th May
Saturday Classes start: Saturday 14th May (No Class Sat 4th June)
Schedule: Coaching groups typically run Monday to Friday afternoons from 3-7 pm and Saturdays from 10am-3pm.

Groups: Small Groups of Max 8 players per coach
Progressive Tennis: G.L.T.C uses Red, Orange, Green & Yellow tennis balls on the most appropriate size court to maximize your child's development and to help players learn to Serve, Rally & Score from an early age.
Junior Membership
You can now join GLTC online. Please remember when joining that the name, age and other details requested online are those of your child but with your email and mobile number!  Upon paying the membership fee which runs to December 2022 you will receive two emails from the Smart Club Cloud.  The first with your user ID to login and the second with your temporary password. Your user ID will be firstname.surname.xxxx (where xxxx is your membership number) eg john.smith.1234.The email comes from admin@smartclubsolutions.com so please add this to your contacts also. This will enable you to book and pay your child's coaching as a member on www.smartclubcloud.com. . You will get a separate email from the office welcoming you to the club (the office is open Monday, Wednesday, Thursday & Friday 9am-1pm) Contact 012876505