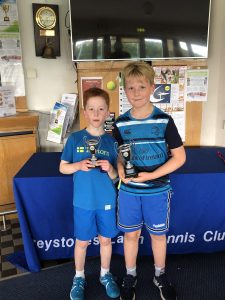 Junior Club Championships 2021
Monday 16th – Friday 20th August
Open to all levels of play
Matches will be scheduled for afternoons from 2.30 pm to 7pm
Events: U8, U9, U10, U12, U15 & U18 singles and doubles
Entries close Sunday 8th August
To enter you will need to set up a Tennis Ireland Tournament Account
You will only need to do this once, and you will then be able to enter all junior tournaments in the club and tournaments on the Tennis Ireland Junior Calendar.
Click here for conditions of entry
Click here to enter online
Entries Close: Wednesday 4th August at 9pm. No entries will be accepted after this date.